The 2 buildings of today were needed for so many happy hours.
Barley Farm:
| | |
| --- | --- |
| | This farm produces an essential good for the production of beer, barley. |
Brewery:
The romans called it "in vino veritas" (in wine, truth), for the egyptians this was probably true for beer.
Which is produced from water and barley in the brewery.
Our next buildings are 2 buildings that are producing food with more proteins.
Cattle Ranch:
| | |
| --- | --- |
| | Strong men are in need of a more protein rich food source then bread. For this purpose you can produce meat from water and grain. |
Fishing Camp:
| | |
| --- | --- |
| | A more cheaper way of producing a higher quality of food then bread is by catching fishes from the river. |
Our next 2 buildings are required to feed your people with bread.
Grain Farm:
| | |
| --- | --- |
| | On this farm grain is produced. Grain can be processed further to bread and meat. |
Bakery:
| | |
| --- | --- |
| | The staple food is bread to feed your people. With the bakery you can process grain and water into bread. |
Food Production Buildings:
Gotcha! You all thought that our next category would be "Advanced Service Buildings" but before we come to them we take a deeper look into the "Food Production Buildings".
Water and food are the bare necessities in life. So with the 7 building from this category you can produce
these escential goods for your city's population.
Cistern:
Water is either the source or the destroyer of life. Clean water is sometimes more worth then its weight in gold especially in the dry deserts
of egypt. Whether you are in the dry desert or closer to the dirty water of the nile you can produce clean water through your cisterns.
So this was "Basic Service Buildings" category. Containing only 5 buildings it's the smallest but not the least interesting.
Here is the short overview of the category: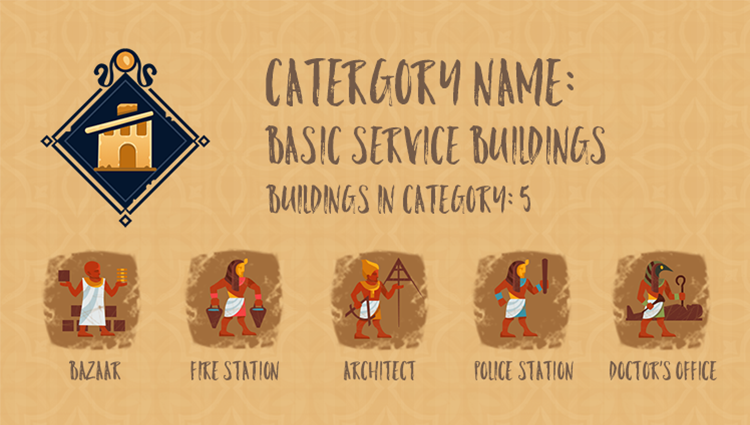 and here are the 3d models of the buildings (keep in mind that this is pre alpha footage so they can change and/or be replaced):


Basic Service Buildings